WaterSHED Launches Women's Empowerment & WASH Initiative with Support from Diageo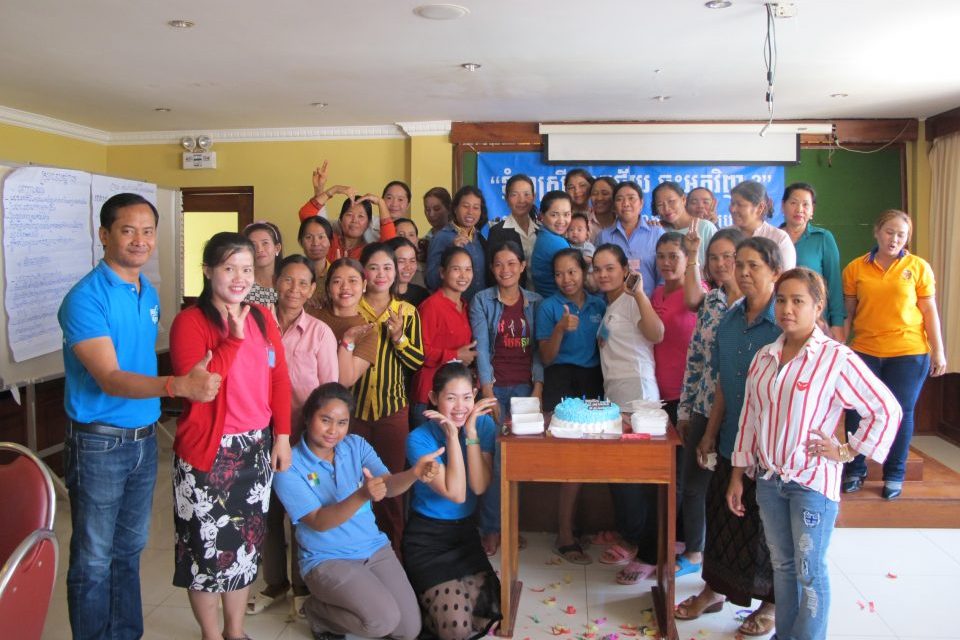 PHNOM PENH – On 8 March 2013, WaterSHED will mark International Women's Day with the launch of a new initiative, supported by Diageo, to build and strengthen opportunities for women's empowerment in Cambodia through enterprise development in the water, sanitation and hygiene (WASH) sector.
Under the initiative, WASH – Women's Empowerment, WaterSHED will focus on the many benefits to women of its proven market-based approach to WASH solutions. Initially focused in Cambodia, it is hoped that the programme can be replicated throughout Southeast Asia.
WaterSHED Executive Director, Aun Hengly, said, "The involvement of rural women in WASH businesses has already netted huge gains in terms of access, but we have only scratched the surface of potential linkages between women's issues and WASH. I am thrilled to have Diageo's support, which enables WaterSHED to continue developing a world-class initiative to empower women through WASH marketing."
Diageo's support for the initiative is part of its US$10 million strategy to empower two million women in 17 countries in Asia Pacific by 2017. Launched in December 2012, 'Plan W: Empowering Women through Learning' aims to reach women of all socio-economic profiles through training and skills development. Initial support for the project will come from the Diageo Foundation, a registered charity funded by Diageo.
"Working with strategic partners is central to the success of Plan W. WaterSHED is equally committed to our aim of enriching the lives of women across Asia Pacific, and empowering them through learning, and we are delighted to be working together on this exciting initiative," said Gilbert Ghostine, President, Diageo Asia Pacific.
In Southeast Asia, as with most societies, women are often responsible for the management of drinking water, sanitation and hygiene for their families. Efforts to improve public health must ensure that women not only play a central role in the management of improved WASH, but also in the design of comprehensive solutions – starting with household decision-making processes.
When women have access to improved water, sanitation and hygiene, there are significant benefits related to health, menstrual hygiene, privacy, and dignity. WaterSHED and Diageo recognize that market-based approaches to WASH not only accelerate such access, but can also enable sustainable livelihood opportunities for women in the emerging supply and distribution channels for products and services. Through its Hands-Off WASH marketing program, 79 percent of WaterSHED-supported sanitation enterprises are led or co-led by women, and many women are also being engaged as sales agents and retailers of safe water technologies.
Evidence from WaterSHED's Hands-Off WASH marketing program demonstrates that women place significant value on having access to safe WASH and, when enabled through a market-based approach, can seize opportunities to generate income and provide important leadership in their communities towards achieving total hygiene.
# # # #
ABOUT WATERSHED
WaterSHED works to ensure that water, sanitation and hygiene products are affordable and accessible to rural households. Through an innovative market-based approach known as Hands-Off WASH marketing, WaterSHED aims to reach more than 100,000 households with improved sanitation and provide access to safe water and hygiene products in order to significantly improve public health in rural Southeast Asia. www.watershedasia.org.
ABOUT DIAGEO ASIA PACIFIC
Diageo (Dee-AH-Gee-O) is the world's leading premium drinks business with an outstanding collection of beverage alcohol brands across spirits, wines, and beer categories. These brands include Johnnie Walker, Guinness, Smirnoff, Baileys, Windsor, Bundaberg, the Singleton of Glen Ord, Ketel One and Shui Jing Fang.
Diageo is a global company, trading in more than 180 countries around the world. The company is listed on both the New York Stock Exchange (DEO) and the London Stock Exchange (DGE). For more information about Diageo, its people, brands, and performance, visit us at http://www.diageo.com.
CONTACTS
WaterSHED:
Geoff Revell +855 92 513 877
geoff@watershedasia.org
Phnom Penh, Cambodia
Diageo:
Yap Hwee Jen
Communications Manager, Diageo Asia-Pacific
hweejen.yap@diageo.com / +65 63725176
One George Street
13th Floor, Unit 01
Singapore 049145