USAID Health Expo: Cambodia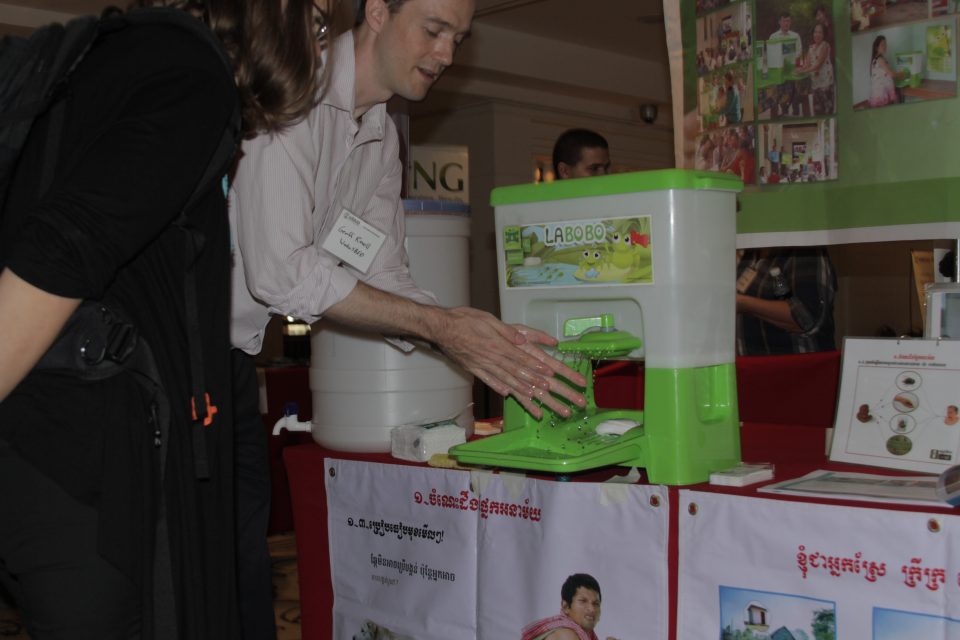 USAID partner, WaterSHED, takes part in development innovation exhibit in Phnom Penh
Phnom Penh, Cambodia – WaterSHED exhibited at USAID's State of the Art (SOTA) health conference on Human Rights Day, December 10, 2014.
Roughly 150 USAID health officers from all over the world converged on Phnom Penh for the event, held every two years. The exhibition highlighted innovative approaches taken by USAID partners. WaterSHED showcased its market-based approach for advancing the uptake of improved water, sanitation, and hygiene products.
"It was a great opportunity for the WaterSHED team to interact with USAID health officers from across Asia and Latin America. We learned about USAID activities and priorities in other countries, and at the same time there was a lot of interest from participants in how our innovations could be adopted outside Southeast Asia." commented Geoff Revell, WaterSHED's Regional Program Manager.
Take home messages:

Point-of-use water treatment can be made aspirational for rapid uptake. WaterSHED has incubated local enterprises to seize the opportunity.
WaterSHED's Sanitation Marketing is cost-effective & sustainable; enabling the purchase of 100,000 latrines by rural consumers w/o subsidy.
Handwashing is the do-it-yourself vaccine. WaterSHED designed and markets an innovative device to make it attractive and convenient.
Ignite the potential of local leaders and communities change. WaterSHED's Civic Champions program saw toilet coverage go up 400%.
Children under 3 often defecate in the open – a huge health risk for communities. Potties help manage the waste and keep homes safe.
Using a market-based approach, WaterSHED supports the commercialization of improved WASH products (toilets, water filters, and handwashing devices) to enable sustained access for rural households in SE Asia. This exhibit showcased successful behaviour change tools, experience in engaging local government to drive change at the community level, and the introduction of several affordable and aspirational products to improve health.