Market testing the LaBobo in Cambodia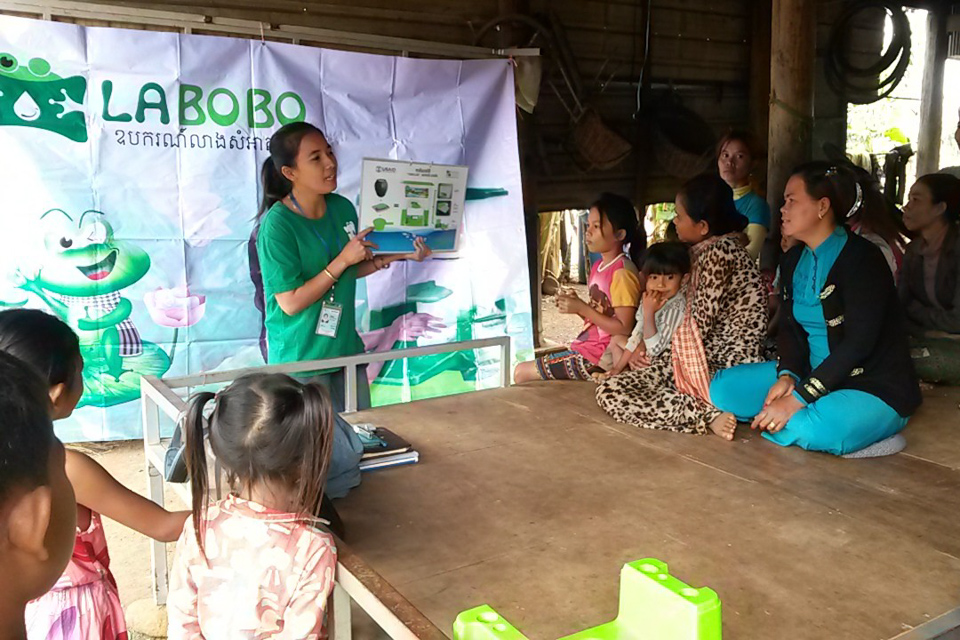 WaterSHED tests new hand-washing technology in rural Cambodian market.
18 December, 2014 – The world's first purpose-built, mass-produced hand-washing station branded locally as LaBobo has reached rural Cambodia. During two test sales events in Kampong Cham Province, eight households decided to invest in their family's hygiene and to brighten up their homes by purchasing a LaBobo.
With the help of local village leaders, WaterSHED staff organized two group sales events that drew on WaterSHED's experience in social marketing from its flagship sanitation marketing program, as well as from its LaBobo marketing activities in the Mekong Delta region in Vietnam. Roughly 20 villagers attended each event. The LaBobo proved to be both a highly aspirational and functional product for these households. In discussing their purchases, customers emphasized their hope that the LaBobo will help them put into practice good habits and techniques of hand-washing. The LaBobo was developed through a rigorous design and iterative testing phase by international experts. The final design reflects the right mix of aesthetic appeal, functionality, durability, and affordability.
The results of the first LaBobo sales events in Cambodia provide a strong signal that the local market is ready for a product that serves as a powerful tool to instill hygienic behavior change.