Scaling up rural sanitation: WaterSHED collaborates with SNV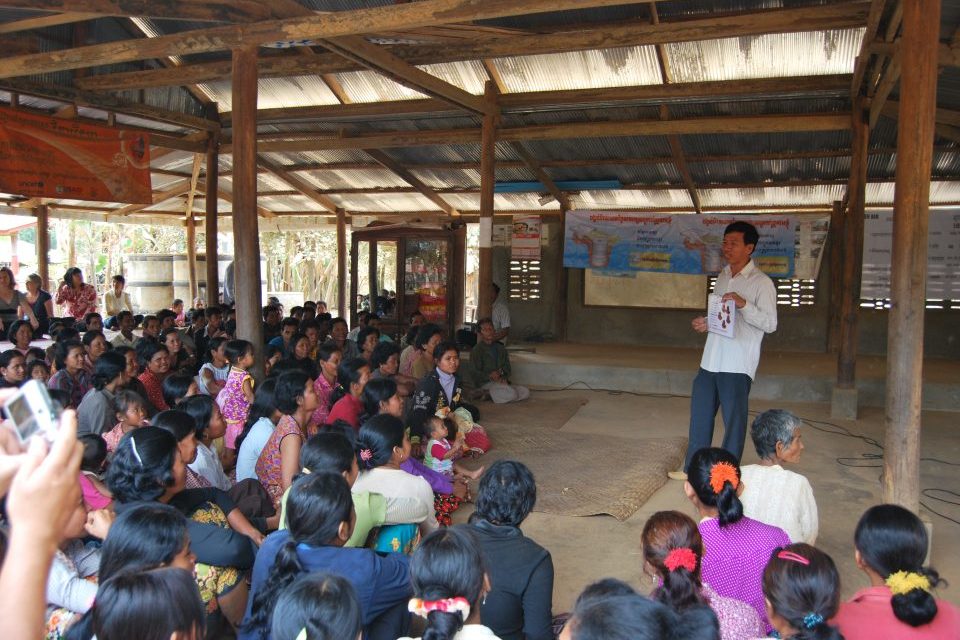 In early 2012, WaterSHED and SNV developed a cooperative partnership in rural Cambodia to provide complementary sanitation programs: SNV's program supports Community Led Total Sanitation (CLTS) and Behaviour Change Campaigns (BCC), and WaterSHED facilitates Hands-Off sanitation marketing in joint target districts in Kampong Cham and Takeo provinces, with expansion planned in Kampong Speu province in 2013. These complementary programs will endeavor to rapidly accelerate sanitation uptake and consistent use in these areas, and will contribute to understanding more about the most efficient and effective aspects of CLTS and sanitation marketing sequencing and timing.
In further support of our ongoing cooperation, WaterSHED participated as a guest resource at SNV's training workshop in November 2012, held in Nghe An Province, Vietnam focusing on scaling up rural sanitation. The workshop was attended by both staff and government counterparts from SNV's six priority target countries in the region, including; Bhutan, Cambodia, Indonesia, Lao PDR, Nepal and Vietnam. Other participants from SNV's programs in Ethiopia and Kenya together with development partners and IRC delegates also joined. The participants were roughly 50/50 NGO and government staff.
Provided with an insight into WaterSHED's approach to the development of the Hands-Off program in the Cambodian context, participants were encouraged to reflect, in their country 'business' groups, on what it would like to be 'in-the-shoes' of a small rural business. Amongst the participants, about one from each country had  exposure to/experience in running a small business (their own business or family business). This reflection proved to be a revelation, with participants realizing that without diversifying their team's skill set to include business expertise, there is a risk of divergence between government and NGO's expectation of the private sector, and what the private sector can and will actually do.
The WaterSHED and SNV collaboration is shaping up as a solid example of synergistic potential when organizations turn ambition for results into open collaboration.