Business profile – Chan Sor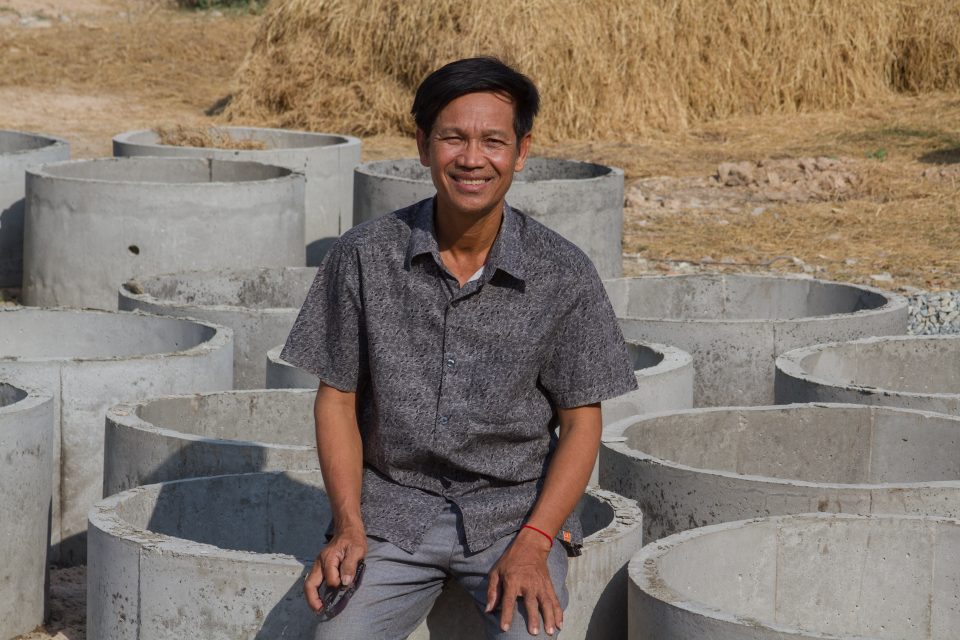 On the last week of February WaterSHED's Women's Empowerment team arrived in Takeo province, less than two hours from Phnom Penh, to recruit women into the WEwork Collective. The program provides business skills training and peer-mentoring to improve opportunities for women in the water, sanitation and hygiene industry.  More than 50 women turned out for the recruitment event that Thursday morning. But among them sat one man- Chan Sor.
Sor arrived with his wife Chanthou Kong, troubling WaterSHED staff why he needed to escort his wife. Is he suspicious of our training? Does he not believe in empowering his wife and business partner? Do we need to do more to educate him that improving his wife's decision-making power and business skills means improving livelihoods for their family and the community?
But our preconceptions of Sor's intentions were misguided. Chan Sor was indeed supporting his wife. There to help his wife take notes while she mended a broken finger, Sor understood that his wife's success benefited them and their seven children. Their relationship, both business and personal, is one of mutual respect and empowerment. "Whenever there is an opportunity for us to learn, my husband and I go together," said Chanthou. But she says she doesn't need her husband to run the business. Sor agrees. "Both of us know the business well and can run it without the other," said Sor. "But when I do something I go through her approval and we are successful because we know how to problem solve together."

For two decades, Kong Chanthou and Chan Sor have been running a toilet and construction business – Chanthou does the accounting and administration; Sor oversees customer deliveries and manages employees. They have been harmoniously working together to grow their business from a single rainwater jar to a multi-product home construction business that employs several workers and provides the livelihood for two families in their community.
But it wasn't always this way. Twenty years ago Chanthou was a farmer and Sor sold vegetables and fish from the back of his motorcycle. As a young married couple, they began their lives together in poverty. But Chanthou's entrepreneurial spirit helped them climb out of poverty and into a thriving construction business. After a family funeral Chanthou asked for the leftover cement used for the casket to make a rainwater jar for their home. The rainwater jar caught the attention of neighbours who repeatedly asked where they purchased it.
This gave Chanthou an idea. From that point, she saved money from their meager earnings to put towards raw construction materials. With time, they stockpiled gravel plus sand and began making cement rainwater jars. Slowly they expanded their offerings to include pillars, staircases and, with the support of WaterSHED, toilets.
Today, toilets are their most lucrative product and earn nearly USD$20,000 profit from their business each year. With WaterSHED's help they have reached new customers and learned to market their products better to solidify a reputation as a reliable toilet and home construction business in the province.
Their expansion has also helped the community and neighbours struggling to find work. Chanthou and Sor employ 10 workers and two families in adjacent homes which they trained to make toilet rings and other home renovation parts using moulds. Today, these families act as Chanthou and Sor's parts suppliers with their own thriving small businesses feeding into the communities' growing construction industry.
But Chanthou has even bigger ambitions for their business, joining WEwork to better understand how to offer more products to even more customers. She says she is not limited by being a woman in a predominantly male industry. "Most women [in Cambodia] think their only option is to work in a garment factory or immigrate to Thailand to find work." Chanthou explains it's not about physical strength, it's about ideas. Sor agrees, urging men to advise women to take a risk. "Men need to encourage women to learn from other successful women how to plan and budget so their business makes money."