Business Profile – Bo Sambath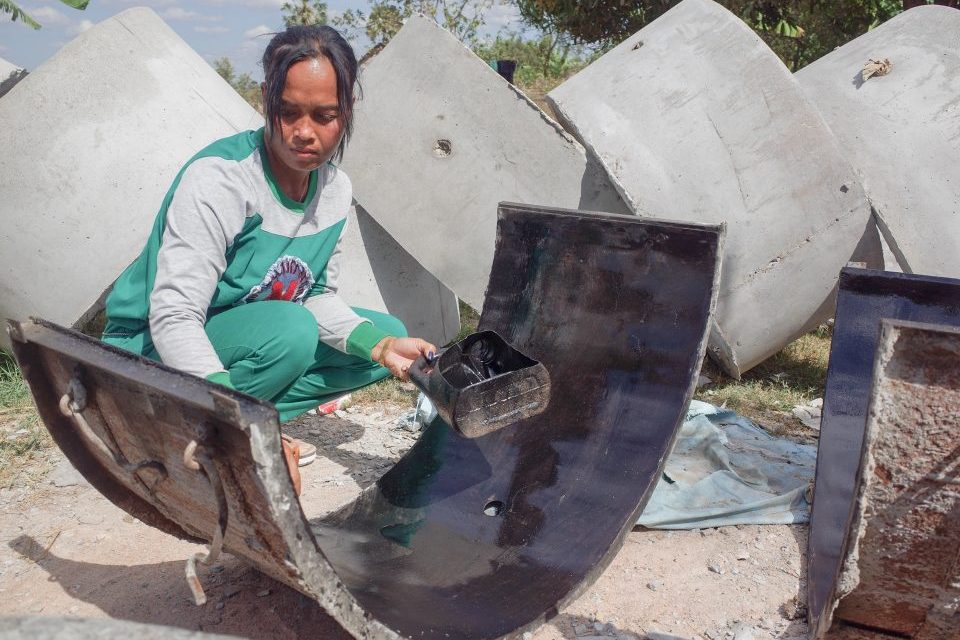 Along a stretch of highway in Kampong Speu province, toilets, painted a bright sky blue, jut out of the landscape like giant mushrooms growing among the rice paddies. They are hard to miss as you drive through rural villages dotted around the province. More and more families in rural Cambodia are proudly adorning their newly purchased toilets with bright colours to stand as beacons of prosperity. And it's no surprise, this has started a domino effect as more families try to keep up with their neighbours.
What is extraordinary is the person behind a growing number of these blue toilets. A farmer and government councilor, Sambath Bo is not the typical owner of a construction business. In a male dominated industry, she's one of few women who builds toilets.
As a commune councilor, Sambath joined WaterSHED's Civic Champions leadership program where she further developed a strategy for sanitation in her community. She successfully promoted toilets to her constituents, but as the number of customer orders swelled, local toilet suppliers in her area were unable to keep up to deliver on the sales. It wasn't until Sambath entered WEwork, WaterSHED's Women's Empowerment peer-mentoring program, that she was able to come up with a solution. Armed with new business and financial skills, a growing professional network, and the support of her family, Bo Sambath purchased two ring moulds and launched her toilet supply business.
But it wasn't an easy start. Sambath struggled to purchase all the necessary equipment for her new business. She put 2 million Riel (USD $500) into her startup after draining her savings account and selling several pieces of jewelry. With limited equipment and no employees, she and her husband were able to fill only one toilet order at a time.
But even building the parts for one toilet was a challenge. "At first, I couldn't make quality toilet rings. They always fell apart," said Sambath. She feared she was headed for failure and became increasingly anxious. But determined to make it work, she drew on her lessons from WEwork and sought advice from her network of peers and relatives in the construction industry.
Today, she prides herself on the quality of her product and has grown her business from a handful of orders per month to more than 20 per month since she launched nearly a year ago. "I am proud of myself and my family for being able to start our own business. It's a business I want to continue until I get old and can pass it onto my sons." Sambath plans to expand the business by growing her stockpile of raw materials and purchasing an additional truck that will enable her deliver more toilets, farther and quicker.
With her determination and resilience, it is no surprise she is both a gold and silver awardee in WaterSHED's Civic Champion programs and a role model for women starting out in the industry. She encourages all women who want to start their own business. "Of course, by starting a business you'll face losses and profits. But it's not a waste to start a business. It's a waste if you're not doing anything at all."