HappyTap Finalist in World Design Impact Competition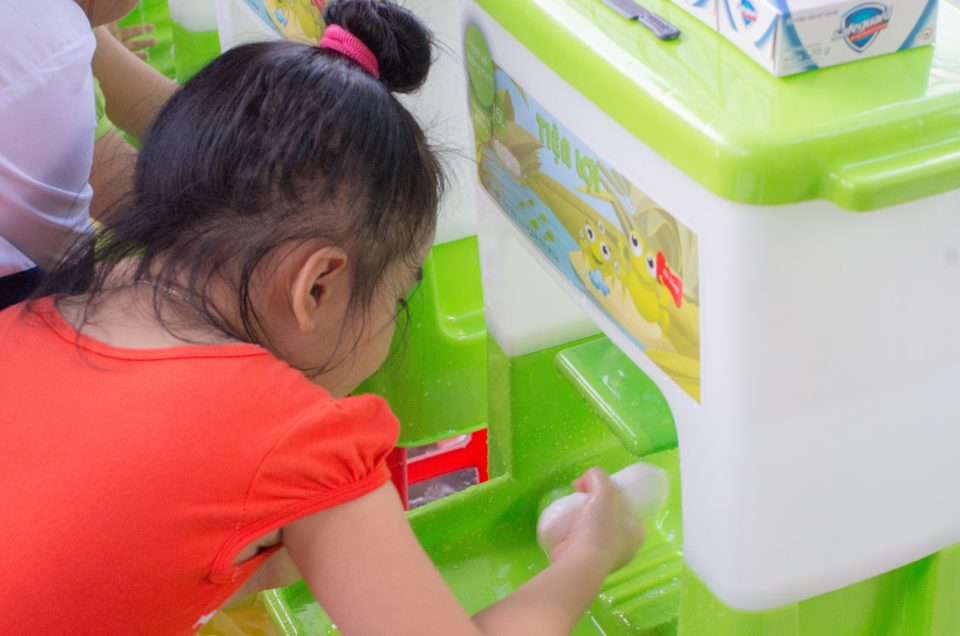 Phnom Penh – WaterSHED's HappyTap portable sink has been chosen as a finalist for the World Design Impact Prize. The biennial award is an initiative of the International Council of Societies of Industrial Design (ICSID), an organization that "seeks to increase awareness of industrial design driven projects that are making a positive impact on our social, economic, cultural and/or environmental quality of life."
HappyTap is the world's first purpose-built, affordable portable sink designed using an iterative human-centered process and sold through WaterSHED's social businesses to consumers in Vietnam and Cambodia. The unique device brings soap and water together in an all-in-one, kid-friendly package to make washing hands convenient and enjoyable for families.
Washing hands with soap is the most cost-effective and reliable way to prevent potentially deadly illnesses such as parasites, respiratory infections, and diarrhea.  Diarrhea alone remains one of the leading causes of child deaths in the world killing more than 750,000 children under the age of five every year. By getting families to consistently wash their hands with soap we can cut that rate by nearly half.
Despite multi-million dollar hygiene education and awareness campaigns, people are still not washing their hands. Our research found there is a persistent gap between knowledge and practice, in part, because people lack a fixed and convenient place to wash their hands and the only available solutions, such as old buckets or recycled jugs, are not inspiring people to get washing.
HappyTap was developed in response to this gap. The bright and attractive device stands as a physical reminder for people to wash their hands. Today, thousands of people are enjoying using the HappyTap in their homes, schools and clinics across Vietnam and Cambodia. The portable sink is also being market-tested in Bangladesh where sanitation coverage is high but hygiene remains low.
The device is a two-time recipient of the Development Innovations Ventures award, a competition "supporting breakthrough solutions to the world's most intractable development challenges", and a top three finalists of more than 80 projects nominated for the World Design Impact Prize. The winner of the World Design Impact Prize will be announced on March 18th at a ceremony in Taipei.
For more information or to schedule an interview please contact:
Julia White / Marketing & Communications Manager / julia@watershedasia.org