LaBobo & Safeguard team up for Global Handwashing Day 2015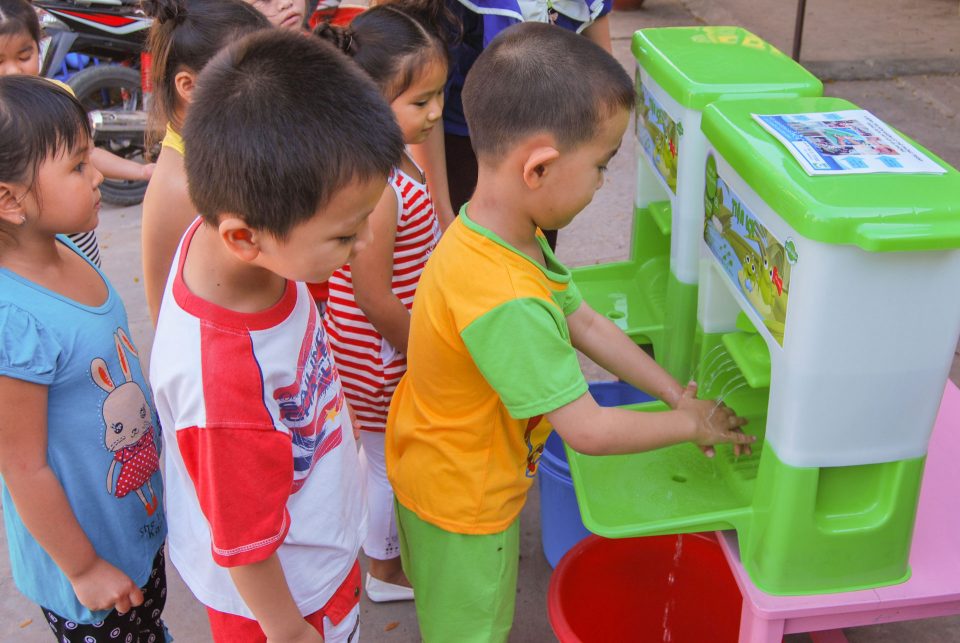 LaBobo and Safeguard partner for Global Handwashing Day, offering gifts with purchase
exclusively for customers in Vietnam
Ho Chi Minh City – HappyTap Co., a leading social enterprise based in Vietnam, is teaming up with global consumer goods company Procter & Gamble for Global Handwashing Day 2015. The partnership will bring together the award-winning LaBobo portable sink with family-trusted Safeguard soap exclusively for consumers in Vietnam.
To celebrate the partnership and promote safe hygiene, the HappyTap team will travel across Ho Chi Minh City and the Mekong Delta this week, demonstrating to school-children and parents a fun way to wash hands.
"Washing your hands with soap before cooking, eating or after using the toilet is a simple and cheap way to prevent illness but most people still don't do it consistently," said Quang Nguyen, Director of Sales and Marketing at HappyTap. According to World Bank estimates, the lack of hygiene in Vietnam costs USD $262 million every year in healthcare costs alone, and globally nearly 800,000 children die each year due to diarrhea. "LaBobo makes it fun and easy to wash hands and kids love to use it," added Mr. Nguyen. "When paired with a high-quality, anti-bacterial soap like Safeguard, it will help to significantly reduce the risk of diarrhea and other deadly diseases. "
Beginning this Monday, October 12th, customers across Ho Chi Minh City and the Mekong Delta will also get an exclusive limited-time offer of a free bar of Safeguard soap with the purchase of a LaBobo portable sink. "Procter & Gamble has touched lives and improved life of consumers around the world through one of the strongest portfolios of leadership brands. For close to 50 years, its flagship soap brand Safeguard has championed family health by providing superior protection from disease-causing germs," said Ms. Mai Le, Head of Communications, P&G Vietnam & Cambodia. "Together with partners like LaBobo, Safeguard promotes proper health and hygiene to help more people safeguard the ones they love"
Join us at Song Ngư school at 54/9 Quang Trung , Q9 in Ho Chi Minh City
on Thursday October 15, 2015 and get
a chance to try LaBobo, the bright green sink international media call "funky" and "playful",
with the germ fighting power of Safeguard soap.
About LaBobo:
The LaBobo is an innovative portable sink, designed with the help of mothers in the Mekong Delta and manufactured in Ho Chi Minh City. It is the only low-cost, high-quality portable handwashing solution in the world, sold exclusively in Vietnam by HappyTap Co., a leading social enterprise established in 2014. The bright green sink has been exported to nearly 10 countries and has recently received international attention from Reuters, Huffington Post and Al Jazeera.
About Safeguard:
Safeguard is P&G's largest Global Personal Care brand. First launched as a bar soap in the United States in 1963, it is now, also, available in other product forms such as Body Wash and Liquid Hand Soap. Safeguard is currently sold in more than 15 countries across Asia, Europe, Africa and Latin America.
Safeguard has championed the promotion of life saving hygiene habits among kids via proven & effective School Handwash Education Programs. These efforts have so far touched the lives of more than 40 million kids across the world. P&G, through its brand Safeguard, also co-founded the Global Handwashing Day (GHD) in collaboration with the Global Public Private Partnership for Handwashing.
For more information or to book an interview contact:
HappyTap Co.
Mr. Nguyen Quang
Director, Sales and Marketing
Tel. +84 (0)902 491 168
quang@happytap.net
Procter & Gamble
Ms. Mai Lethituyetmai
Head of Communications, Vietnam & Cambodia
Tel: +84 (0)3521 4548
mai.lt@pg.com