A Partnership to Improve Water, Sanitation, and Hygiene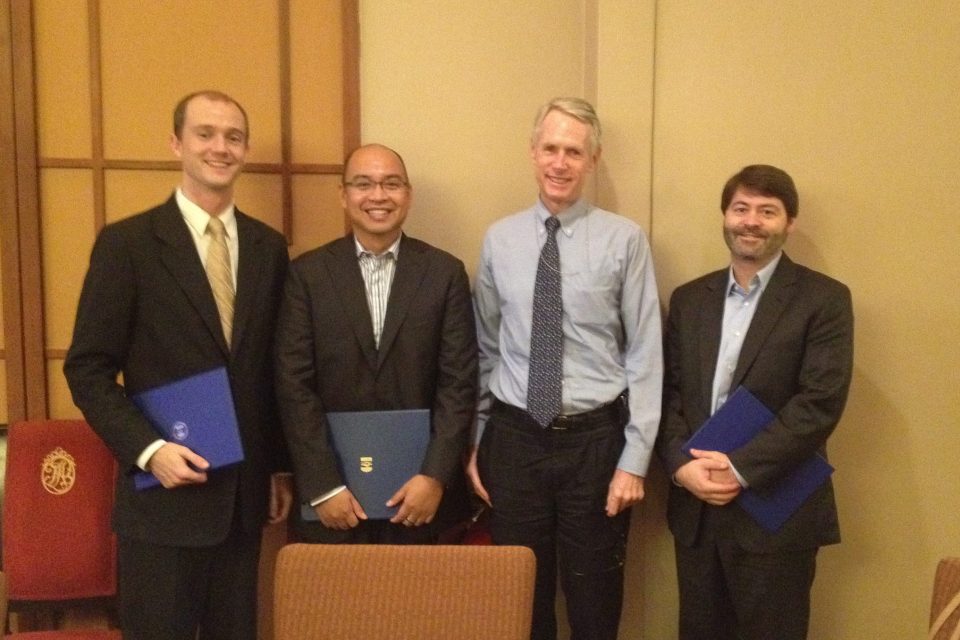 May 24, 2013
By Maura O'Neill, The Huffington Post
In Vietnam, WaterSHED is introducing and testing HappyTap to see whether an affordable, conveniently located, and aesthetically appealing product can encourage consistent and proper handwashing.
The statistics around water, sanitation, and hygiene are daunting. 2.5 billion people worldwide still lack access to improved sanitation. Contaminated food and water cause up to 1.5 million deaths from diarrheal disease among children under five every year. Seventy percent of available freshwater resources worldwide are used for agriculture, often through inefficient and environmentally unsustainable means.
The good news is that the solutions to these challenges are changing. Innovators, governments, and donors are coming together to find new approaches that could dramatically change this water-scarce landscape. In 2011, USAID launched one such partnership between our Development Innovation Ventures (DIV) program and the Bill and Melinda Gates Foundation. The WASH for Life Partnership identifies and rigorously tests new WASH technologies and delivery models, then scales and replicates those that are proven successful.
This week, we are excited to announce the seven projects supported by the WASH for Life Partnership and the innovative work these projects are doing around the world.
DIV selects grants in three stages. The Stage One phase is for piloting new ideas. There are four WASH For live grants in Stage One. Bear Valley Ventures is testing new anti-microbial hand cleaning products for urban families In India who have constricted access to water. In Vietnam, WaterSHED is introducing and testing HappyTap to see whether an affordable, conveniently located, and aesthetically appealing product can encourage consistent and proper handwashing. IDEO.org aims to empower Ghanaian communities with mobile phones tools that can upload instances of open defecation onto an open-source map to raise support for improved sanitation. Finally, RAND Corporation, is testing mobile-based financing options to make water filters more accessible to poor Kenyan communities.
In Stage Two, DIV funds innovative solutions that have demonstrated success at a pilot or small-scale project level. DIV is continuing its support of social enterprise Sanergy, which won a Stage One DIV grant in 2011 and has now received funding to expand an approach that builds small-scale toilets in Kenya's slums, collects the human waste from these toilets, and converts it into high-quality organic fertilizer for sales to commercial farmers. With their Stage Two funding, Sanergy will scale to 700 latrines and provide hygienic sanitation to 70,000 slum residents.
Another Stage Two recipient, KickStart International, tests new innovations in financing to increase technology adoption of its "MoneyMaker" irrigation pumps, which enable the creation of small businesses to lift people out of poverty. Around 800,000 rural farming families (or around 4 million people) in Kenya alone could benefit from using these shallow water irrigation pumps to grow more crops, increase their income, and lift themselves out of poverty.
Stage 3 funding is reserved for innovative solutions that have credible and rigorous evidence of development impacts at significant scale. We are pleased to announce that the first Stage Three grant in the WASH for Life Partnership is Innovations for Poverty Action. Their Dispensers for Safe Water program installs point-source chlorine dispensers that are proven to increase use of treated drinking water and prevent its recontamination. This program has already installed over 3,000 dispensers in East Africa that provide 632,000 people with access to clean water. With WASH for Life Funding, Dispensers for Safe water will scale to reach more than 5 million people, all for approximately $.50 per person per year.
Billions of people are in need of solutions that help them access cleaner water and result in healthier living Together, this partnership and these seven new projects present an exciting and optimistic trend in how we approach challenges in the WASH sector and beyond.