Rural consumer sanitation adoption study in Cambodia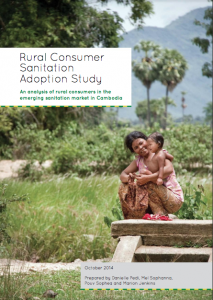 Read the RCSAS study online
Download the study in low-res pdf (3.4 MB).
Download the study in med-res pdf (7.0 MB)
WaterSHED has published the findings from its comprehensive review of rural consumer sanitation adoption in Cambodia. The study evaluates WaterSHED's Hands-Off sanitation marketing program, which was designed to catalyze the market for improved sanitation in rural Cambodia by stimulating household demand and improving the supply of affordable sanitation options for rural households.
Understanding the Rural Toilet Consumer
The RCSAS confirms that the WaterSHED program has resulted in a substantial acceleration in improved latrine coverage and usage in the study areas. Household consumers are now able to access an improved latrine more easily and more cheaply than before. New distribution and sales mechanisms are increasing household awareness of and exposure to more affordable latrine products and increasing motivation to invest in an improved latrine. Enterprises are demonstrating that they serve at least some segments of the previously unserved rural market. Nonetheless, significant challenges still remain. The RCSAS reveals a number of opportunities to break down remaining barriers to uptake of improved latrines and to further evolve WaterSHED's market-based approach.
Report Highlights
•   Improved sanitation coverage nearly doubled, growing by 18 percentage points in three years
•   Sales by supported enterprises represented 42% of new pour-flush latrines, suggesting positive 'ripple effects'
•   Households with an installed latrine core use it. For those without an installed latrine, open defecation remains the norm.
•   Desire for a high-end 'ideal' shelter results in installation delays.
•   Home delivery, affordable prices, and new promotional models are what motivate households to buy from WaterSHED-supported enterprises.
•   Knowledge and practice around safe pit emptying must be addressed.