Washing Your Hands Just Got Easier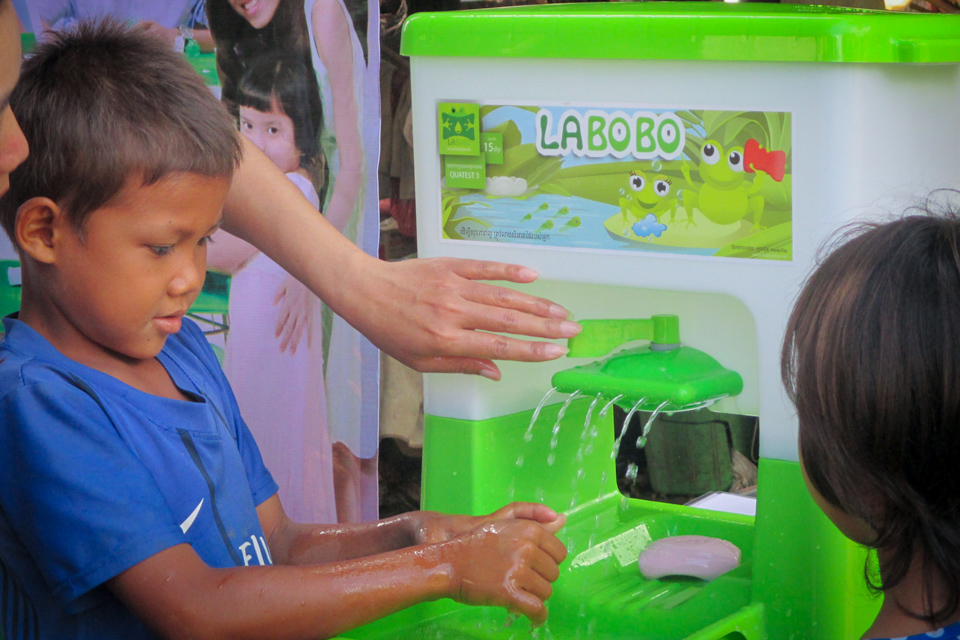 PRESS RELEASE – Award-winning hand-washing device to enter Cambodian market.
Phnom Penh – WaterSHED Ventures is launching LaBobo in Cambodia, the first and only hand-washing device of its kind in the world.  Join us Sunday July 5, 2015 at Toys & Me in Phnom Penh's Toul Tompong as we introduce the LaBobo to the Cambodian market.
Why LaBobo?
Washing hands is the most cost-effective and easy way to prevent diarrhea, which kills nearly 800,000 children every year across the globe.  If we consistently wash our hands at critical times, especially after using a toilet or before preparing food, we can prevent nearly half the cases of diarrheal disease and one third of the cases of other potentially fatal infections, according to the World Bank.  But the rate of hand-washing with soap remains severely low despite billions of dollars on education in schools and homes around the world.
For many, washing hands is an inconvenient and time-consuming task.  Sinks are often out of reach for children and millions of people have no sink at all.  So in 2013 WaterSHED came up with a product that not only makes it easy and fun to wash hands with soap, but also stands as a physical reminder to reinforce hygienic behavior. Today, LaBobo is the only purpose-built, portable and mass-manufactured hand-washing device in the world.
LaBobo was built using a human-centered design process with input from families living across the Mekong Delta to ensure the product reached the right mix of aesthetic appeal and user functionality.  The final design includes a custom low-flow spout to conserve water and a conveniently placed soap dish to ensure an all-in-one hand-washing package.
WaterSHED was twice awarded funding from USAID's competitive Development Innovation Ventures program to design and market the LaBobo hand-washing device.
About WaterSHED:
WaterSHED takes a marketing approach to development, designing innovative products and bringing them to market at an affordable price either through its social enterprise subsidiaries or local business partners.  The organization has already successfully helped design a low-cost latrine and partnered with nearly 200 local businesses in rural Cambodia to enable the sale of more than 100,000 toilets, reaching nearly half a million people in the country and building a thriving sanitation supply chain in the process.
WaterSHED Ventures is the Cambodian social enterprise arm of WaterSHED. The enterprise uses direct marketing and retail sales channels to empower people to make investments in health products, such as the Teuk Amret ceramic water filter. The LaBobo is part of a growing portfolio of essential products designed to be affordable and attractive to Cambodian consumers.
We hope you'll join us on Sunday July 05, 2015 at Toys & Me in Toul Tompong as we celebrate LaBobo's introduction to Cambodia.
For interviews in Khmer please contact:
Mean Lux, General Manager
WaterSHED Ventures
+855 77 222 828
lux@watershed.asia
For interviews in English please contact:
Geoff Revell, Regional Program Manager
WaterSHED
+855 92 513 877
geoff@watershedasia.org