'Model Leader' Program Takes Flight at Conference of Civic Champions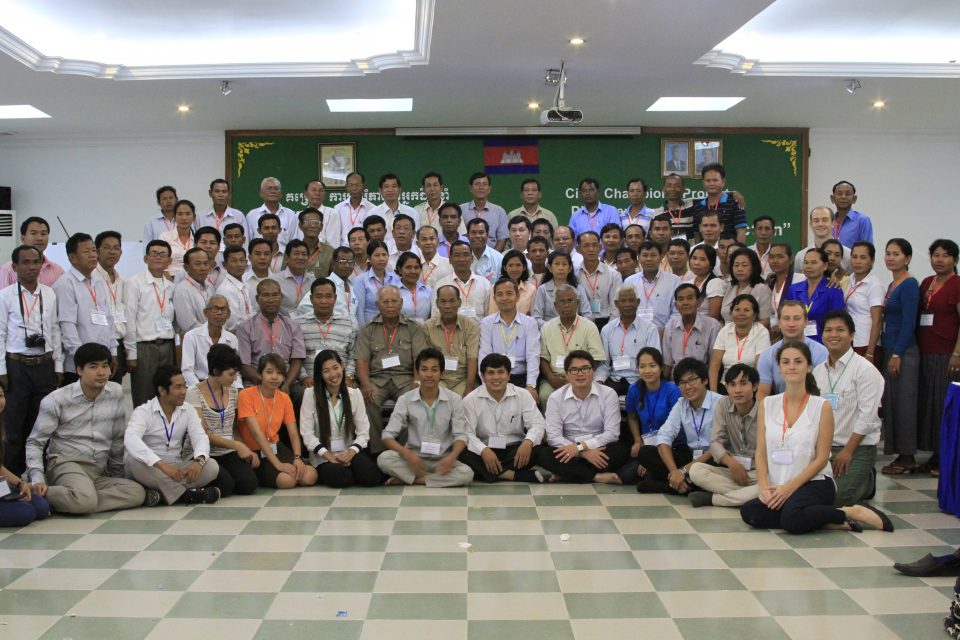 WaterSHED's Civic Champions project commenced its initial phase with a three-day Discover conference from October 16 to 18 in Preah Sihanouk province. The event marked the first of three phases in an effort to foster the emergence of a new cohort civic leaders who can inspire change with their behaviors and attitudes.
Participants engaged in a series of thought-provoking discussions and activities to explore various aspects of leadership including: taking responsibility, creating a vision, and strengthening personal values. The activities energized the participants and put the focus on putting theory into practice. The event emphasized team building and facilitated the establishment of a 'Community of Action', which provides an ongoing mechanism for leaders to collaboratively discuss ideas and develop solutions for the issues they frequently face in their jobs.
"As the trainers, our main purpose is to inspire the commune councilors to be active and to think critically in their daily work, which requires strong leadership and thinking skills," said Phav Daroath, trainer and WaterSHED's WASH Marketing Manager, "so we need to get them really involved in all activities, open their minds to new ideas coming from the discussions, and promote the habit of sharing experiences … among their leadership community."
WaterSHED's Civic Champions project aims to ignite the leadership potential of local government officials in rural Cambodia. Inspired by WaterSHED's experience with rural government leaders whose extraordinary efforts led to greatly increased sanitation coverage in their villages, the Civic Champions project hopes to encourage leaders in similar positions to recognize and act upon their potential as powerful agents of change in their communities. This first in a series of meetings brought together 65 commune councilors from Kong Pisei and Oudong districts in Kampong Speu province, 7 advisory group members representing village, commune, district, provincial and national levels, 11 trainers from WaterSHED and two international leadership consultants from Adepicos.
The Discover conference inspired the participants to be excited about their potential as civic champions, connected them to each other to build a 'Community of Action' and piqued interest in generating new ideas to achieve better outcomes.
 "I have been in many leadership trainings, yet this is the very first time that I see participants engaged in the fun learning activities dealing with problem-solving," said Noun Him, Second Deputy Commune Chief, Pich Mony Commune, Kong Pisei District, Kampong Speu Province, "and I believe from the theory I have learned and applied in these activities, I will be able to practice in my real work."
Participants in the Civic Champions project were selected following an application process, and successful applicants paid their own fees as part of the process of commitment to the nine-month program. The commune councilors, whose ages ranged from 28 to 70, were universally active and involved.
"I have learned a lot related to leadership and how to become a great leader," said 68-year-old Nhung Sim, Commune Councilor in Roka Koh Commune, Kong Pisei District, Kampong Speu province, "and I am more ready for all the lessons and challenges because my health is still very good to do so."
The project receives tremendous support from the Advisory Group, made up by experienced civil servants, private sector leaders, and development partners. The group brings a high-level of expertise and supports the strategic and operational decisions of the project team.
"I am content to volunteer in the Advisory Group since I expect that the Civic Champion's [project] can equip the leaders at the commune level with the essential skills and motivation they need to perform their job," said H.E. Chan Dara, Deputy Governor, Kampong Speu Province and Chairman of the Advisory Group. "From my observation during these two days, I am very satisfied because this is not a regular training where participants take notes from the slides. Instead, the trainers only present the important points yet use activities to complement the training making the best of the trainees," he added.
Effective government leadership is required at all levels – especially locally – to accelerate rural sanitation uptake. The early and rapid success of WaterSHED's Hands-Off sanitation marketing program is due in no small measure to concerted efforts to engaged local government officials. With their contribution, this cohort of Civic Champions will indeed take Hands-Off to another level of success.
The Civic Champion is supported by Grand Challenges Canada.